Today I will share some advice on age appropriate pool care tasks for children.These don't involve electricity or equipment adjustments, and also remember to keep pool chemicals out of reach of children. With those caveats in mind, here are some pool chores for children!
Clean Tiles & Skimmers: This was one of my earliest pool chores when I was a kid. People used a lot of tanning oil back then I guess. If your tiles and inside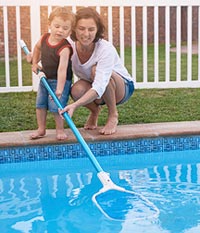 skimmer walls get gunky, it can be scrubbed off with a pool tile cleaner and a scrubbing mitt. For extreme cases, using an enzyme pool treatment will prevent scum lines around the pool, year round!
Brush and Skim Pool: For kids big enough to handle the pool pole, skimming and brushing the pool each week not only improves water clarity, but is a great bit of exercise, too! Be sure to provide your helpers with a good pool brush and a nice skimmer net.
Empty Bags and Baskets: Pool cleaner debris bags is another great pool chore for children. Just show them once (or twice) how to gently remove the bag, and where to empty the leaves, and how to put it back on (or in) the pool cleaner. And if your kids aren't scared of bugs, they can also empty the skimmer baskets. Show them how to remove the baskets, where to dump it, and to always replace the lid safely.
Vacuum the Pool: Vacuuming the pool is something anyone can do. The hardest part is priming thevac hose, but not hard at all for the son of a pool man!
Clean the Deck: A fast way to clean a pool deck is to use a 5-gal bucket and douse the deck with chlorinated water, but that may be too strenuous for most kids. A rechargeable or electric leaf blower however can be used regularly by kids. Keep the deck clean, and your pool stays cleaner!
Water Testing: Water testing is not a difficult task to train a child of 6 or 7. They shouldn't be handling pool chemicals, but can test the water 2-3x per week, using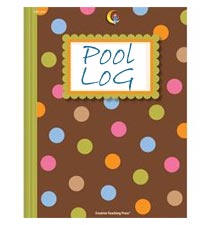 test strips or a test kit, and record the chemical levels for you in a pool log book, or on the kitchen message board.
Pool Log Book: Such fun for a detail oriented child, who can keep a record of pool chemical levels, pool temperature, pool filter pressure and pool water level. He or she can also note any pool cleaning chores done. At a glance, you can review the log book and see when you need to add chemicals or water, backwash the filter, or inspect any problem noted.
---
Kids can take over nearly every aspect of pool maintenance. It's something they can take ownership of, or be accountable for, which builds self esteem. They will also pick up some technical knowledge along the way.
So go on, put your kids to work around the pool! Mwahaha